[et_pb_section fb_built="1″ _builder_version="4.3.2″][et_pb_row _builder_version="4.3.2″][et_pb_column type="4_4″ _builder_version="4.3.2″][et_pb_text _builder_version="4.3.2″ text_orientation="center"]
Roof Storage Brisbane
Job: To convert the large unused roof space into the largest possible roof storage room possible.
Location: Coorparoo
Storage, storage & more storage is what these clients needed and wanted.  Roof Space Renovators' mission was to create the largest clean storage room possible, in the roof space of their Coorparoo home.  The room is accessed via the top of the range Stairladder Deluxe and our final measurement came in at a huge 27m2.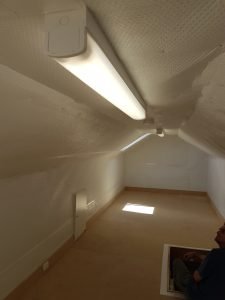 For many of us, an additional 27m2 of space within our home would make a massive difference to our lives.  You are probably already thinking about what you would use if for! Maybe free up that spare bedroom for guests, clear out the garage so you can fit the car, cancel the storage shed rental, or even just do a general de-clutter of your living areas? The list is endless.
For these clients, they were looking forward to de-cluttering AND because their storage room was sooooo big, they ended up putting a couple of beanbags and a tv up there for the kids.  The smile all over these clients face, says it all. Not only are they extremely happy with the creation of the extra space, they had two large Fakro roof windows installed which created city views!! Yes, city views from Coorparoo!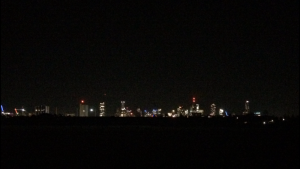 Roof Space Renovators' service Brisbane,Sunshine Coast,Gold Coast, Ipswich (and all areas in between).
Roof Space Renovators' Specialise in – Attic Room, Attic Living, Attic Storage, Skylights & Roof Windows
Contact Roof Space Renovators' for an obligation free consultation – 
Phone – (07) 3889 6688
Email – [email protected]
Website – https://roofspacerenovators.com.au/
[/et_pb_text][/et_pb_column][/et_pb_row][/et_pb_section]