Roof Windows
Roof windows are the perfect way to fill your home with natural light which helps keep a happy & healthy environment for all occupants.
So if your home is lacking natural lighting and making you feel a little down, it might be time to call Roof Space Renovators.
Our range of roof windows can help you gain that much needed extra daylight.
To speak to our friendly team, call us on (07) 3889 6688, enquire online here or visit our showroom at 13/18 Hinkler Court, Brendale Qld 4500.

Skylight Installation
Also commonly known as simply, Skylights, as well as Skylight Windows, Glass Skylights and Roof Skylights. We have three (3) major brands available – Velux, Fakro & Keylite. We are premium suppliers and installers of each of these product brands.
With our extensive knowledge of each product brand and experience in skylight window installations, we can have you feeling fantastic and enjoying a light and airy home before you know it.
Roof Space Renovators service Brisbane, Sunshine Coast, Gold Coast, Ipswich (and all areas in between).
Benefits of Natural Light Within The Home
It is no secret that natural light is the most powerful light form. When you think about the common daily pattern, the light during the day is used to function, whereas the darkness of the night to sleep. Therefore, the addition of natural lighting within the home has multiple relating benefits.
Can help cut Electricity costs
Provides warmth & Vitamin D
Helps make the home feel spacious and comfortable
Assists freshen the air in the room / removes odours
Can prevent or assist in the recovery of potential health issues such as energy loss, anxiety, depression, oversleeping, overeating & loss of enery.
Testimonial From a Recent Customer
Recently we worked with a Sunshine Coast homeowner, installing two (2) roof windows into her living area to combat the dark space.
Although, this customer contacted us initially, she was a little unsure as to whether roof windows would serve her requirements. She wasn't sure how many roof windows she would require, how much natural light they would allow in and what the finished product would look like in her home.
Our experienced consultant visited, explained the process and conducted a measure and quote. Liking what she heard, this homeowner agreed to proceed with the skylight installation.
Here is what she had to say about working with Roof Space Renovators:
Roof space renovators did a fantastic job installing my new skylights. They were great communicators and competed the job professionally and on time.
I'm so glad I finally went ahead with getting skylights – I love my new bright living area and kitchen. C J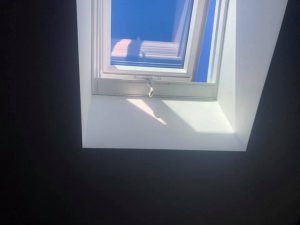 Why Choose Roof Space Renovators?
Showroom display – visit our Showroom to view our skylight brands on display.
Initial Consultation – book your obligation-free, in-home visit to discuss your proposed roof skylight project.
Fixed quotations – you can expect no hidden costs.
End-to-end supply & installation service – we complete the entire job in house from start to finish.
Quality workmanship – we are experienced in skylight installations and have a qualified team of builders, carpenters, plasterers, as well as roofers, electricians, plumbers, air conditioner specialists (if required)
Portfolio of completed work – visit Facebook or Instagram to see a large gallery of our completed work.
Customer Service – Read our Google Reviews and Facebook Reviews.
Licensed and fully insured – we are fully insured and are members of HIA & Master Builders Qld
Roof Windows
At Roof Space Renovators, we have been assisting Queensland homeowners combat dark homes for years, with the addition of our gorgeous Roof Windows.
We are not just skylight installers, we are Natural Lighting Specialists!
If you would like to 'bring the outside in' to your home, contact us.
Roof Space Renovators' specialise in Skylight & Roof Window installation
Also, we conduct Attic Ladder Installations, Attic Storage Installations and Complete Attic Conversions
Roof Space Renovators' service Brisbane, Sunshine Coast, Gold Coast, Ipswich (and all areas in between).
Roof Space Renovators' Specialise in – Attic Ladders, Attic Room, Attic Living, Attic Storage, Skylights & Roof Windows
Contact Roof Space Renovators' for an obligation free consultation – 
Phone – (07) 3889 6688
Email – [email protected]
Website – https://roofspacerenovators.com.au/
[/et_pb_text][/et_pb_column][/et_pb_row][/et_pb_section]