Tired of feeling cramped and cluttered in your home?
If you're in need of more storage space, but don't want to break the bank, attic storage might be the budget-friendly solution you're looking for.
In this article, we'll explore storage solutions and how they stack up against Roof Space's budget attic conversions.
Storage Unit Vs. Attic Storage: Which Is Right For You?
Self-Storage
Self-storage is a popular option for many people because it allows them to store their belongings in a secure location. However, this comes at a high cost.
In Brisbane, for instance, the average cost of a self-storage unit is $395 per month. This can quickly add up and become an expensive burden for people who need long-term storage solutions.
Additionally, self-storage units require frequent visits, which can be both time-consuming, inconvenient, and costly.
Despite being protected against burglaries, self-storage units are not 100% safe. There have been cases of theft and vandalism, which can result in the loss of valuable items.
Furthermore, unpaid storage bills can result in debt collection and the auctioning off of the contents of each unit, leaving you without your possessions and with a secured debt.
Attic Storage
On the other hand, attic storage is a much more affordable and convenient option.
For a basic 12m2 storage solution, the cost is *from approx. $3200, which works out to $267 per month for the first year. After that, it's completely free. This means that you can save a significant amount of money in the long run.
Roof space storage is also much more convenient than self-storage. Your belongings are stored right above your head, so you don't have to waste time and money driving to a remote location to access them.
Roof space storage is also safe and secure, as it's located in your own home. You don't have to worry about theft or vandalism, and there are no unpaid bills that can result in debt collection and the loss of your possessions.
Roof space storage is a better value than self-storage because it allows you to process and organise the items you have in your own home. This can save you both time and money in the long run.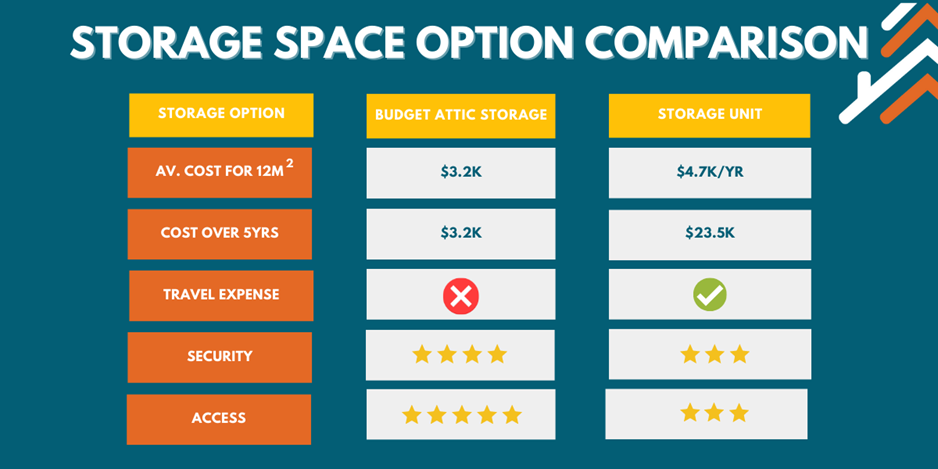 Ready to turn your home into a 'Smart Attic' investment?
Maximise your home's potential with an attic storage conversion! Attic conversions not only provide additional storage space but also increase the functionality and value of your home, making them a smart investment.
Our budget and clean attic storage solutions are perfect for those wanting extra storage space.
Contact us today or visit our showroom to learn how Roof Space Renovators can give you the extra room you need and transform your home.
Start reclaiming your space now!