[et_pb_section fb_built="1″ _builder_version="4.3.2″][et_pb_row _builder_version="4.3.2″][et_pb_column type="4_4″ _builder_version="4.3.2″][et_pb_text _builder_version="4.3.2″ text_orientation="center"]
Attic / Loft Storage Area – Brisbane
Job:  To provide the homeowners with an affordable and practical attic / loft storage area.
Location: Aspley, Qld 4034
Like the majority of our clients, this family living needed somewhere for storage in order to declutter their living spaces.  As families grow, it can be easy to accumulate items that you don't want to discard of immediately. For instance, babies and children's clothing, toys, books, nursery items etc.  Whilst one child may outgrow these items, the next may in the near future require them.  However, where do you store these items in the meantime? We often see spare rooms, wardrobes, garages and cupboards 'chock-a-block' with these kind of things. This is exactly why we love the concept of roof space storage!  Unlocking the roof space and having it converted into a storage area, provides homeowners with a discrete and convenient storage option that enables them to reclaim the spare room, wardrobe and/or garage, where they can then be used for the purpose they were built.
This couple have a family member who already have an attic ladder and basic roof storage area.  Therefore, they were already aware of the benefits of attic storage when they contacted Roof Space Renovators.  They decided on a more deluxe attic ladder, which we call the Upgrade Timber.  It is high quality and safe and easy to use.
They also had 10m2 of storage flooring installed, which is designed to carry loads of up to 75kg per m2 plus foot traffic.
We also installed an LED Fluro Batten and a neon wall switch.  The neon wall switch is installed on the wall near the attic ladder.  The purpose is to allow the client to turn on the light in the attic before they go up there.  The switch also has a strip through it that lights up, showing that the light is on in the attic. Therefore, if they close the ladder up and forget to turn the light off, the switch reminds them the light has been left on.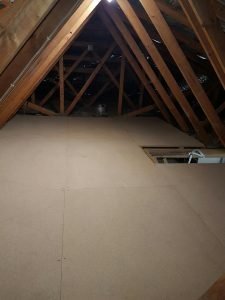 Converting roof spaces in houses all over South East Queensland from basic storage areas to living areas, is what we do best.  Our business and the products we offer, is continuously evolving.  We have multiple lighting and ventilation options now available, to make using the attic space as comfortable as possible, at affordable prices.
Quality workmanship and products in combination with the highest quality customer service are our number one priorities, and it looks as though we ticked both boxes for these clients, as they left us this Google Review:  "Great customer service, very prompt and responsive to our enquiries. Excellent and speedy install and an outstanding finished product. Highly recommended. Thank you so much Andrew and team".
Roof Space Renovators' service Brisbane, Sunshine Coast, Gold Coast, Ipswich (and all areas in between).
Roof Space Renovators' Specialise in – Attic Ladders, Attic Room, Attic Living, Attic Storage, Skylights & Roof Windows
Contact Roof Space Renovators' for an obligation free consultation – 
Phone – (07) 3889 6688
Email – [email protected]
Website – https://roofspacerenovators.com.au/
[/et_pb_text][/et_pb_column][/et_pb_row][/et_pb_section]