[et_pb_section fb_built="1″ _builder_version="4.3.2″][et_pb_row _builder_version="4.3.2″][et_pb_column type="4_4″ _builder_version="4.3.2″][et_pb_text _builder_version="4.3.2″ text_orientation="center"]
Attic Storage Room – Tarragindi, Qld 4121
Job: To transform a section of the roof space into an attic storage room, for the purpose of storage and viewing Brisbane City.
Location: Tarragindi (7km South of Brisbane)
These clients required a functional storage area, however they were also aware of the possibility they may end up with a Brisbane City view from the attic, so opted to have a roof window installed in the hope of capturing a view.  Roof Space Renovators' were able to deliver on all levels!  This smart looking 13.5m2 storage room was built into a section of the roof space, enabling the clients to make the most of the space for storage.
City View
Fakro Roof Window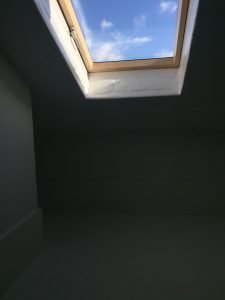 The roof window was positioned in the perfect spot, not only allowing for maximum storage but also gaining the best view possible of the city from the room.
We installed a top of the range Stairladder Deluxe Attic Ladder and a hatch door so the client could access the rest of the roof space, in particular, the ducted air conditioning system that runs through the roof.
The client then decided to paint the floor, to make the room completely white.  We think it looks great!
The clients were very happy with the products and service and shortly after completion, they left us this Google Review – 'Hi Andrew, I just wanted to write a quick note to let you know how pleased we are with the roof storage your team created for us. You were recommended by a friend and I would have no hesitation in recommending your business to others. Everyone we dealt with was professional and courteous. The extra storage has freed up so much space in our home. And the city view from the window isn't too shabby either! Thanks once again, Tony and Sally'.
Attic Storage is becoming increasingly popular in South East Queensland, with an array of options to suit most budgets.
Roof Space Renovators' service Brisbane, Sunshine Coast, Gold Coast, Ipswich (and all areas in between).
Roof Space Renovators' Specialise in – Attic Ladders, Attic Room, Attic Living, Attic Storage, Skylights & Roof Windows
Contact Roof Space Renovators' for an obligation free consultation – 
Phone – (07) 3889 6688
Email – [email protected]
Website – https://roofspacerenovators.com.au/
[/et_pb_text][/et_pb_column][/et_pb_row][/et_pb_section]