[et_pb_section fb_built="1″ _builder_version="4.3.2″][et_pb_row _builder_version="4.3.2″][et_pb_column type="4_4″ _builder_version="4.3.2″][et_pb_text _builder_version="4.3.2″ text_orientation="center"]
Glass Skylights – Wavell Heights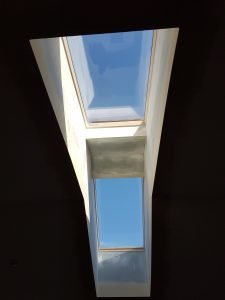 Job: To supply and install two glass skylights in the kitchen / dining area of the home.
Location: Wavell Heights, Brisbane
This home required more light in the kitchen / dining area.  The owners wanted natural light and for the skylights to be visually appealing.  They chose the Fakro brand of skylights for their strength and durability and they opted to have the skylights installed on opposite sides of the top ridge with one massive shaft for the aesthetic appeal.  The home already had plenty of ventilation, therefore, they decided upon fixed (non-opening) skylights.
Roof Space Renovators' are extremely experienced with skylight installations and only provide the highest quality products and service.  Fakro is a top quality skylight, made from Nordic Pine and toughened 4mm glass on the exterior to combat Queensland's often crazy weather conditions.  The roof is a corrogated iron profile, therefore, we recommended that the homeowner opt for custom-made flashings.  Custom flashings are an additional expense, however, they provide complete waterproofing, giving our customers security and peace of mind.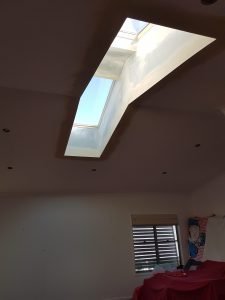 The homeowner can now organise to paint the shaft the same white as the ceiling.
Roof Space Renovators' service Brisbane, Sunshine Coast, Gold Coast, Ipswich (and all areas in between).
Roof Space Renovators' Specialise in – Attic Ladders, Attic Room, Attic Living, Attic Storage, Skylights & Roof Windows
Contact Roof Space Renovators' for an obligation free consultation – 
Phone – (07) 3889 6688
Email – [email protected]
Website – https://roofspacerenovators.com.au/
[/et_pb_text][/et_pb_column][/et_pb_row][/et_pb_section]