Welcome to our first case study on attic storage conversions!
We know it can be hard to think 'inside the box' when it comes to your roof space reno, so to help, we decided to give you a cheeky behind-the-scenes look into what it takes to convert your roof space!
In today's case study, we built a clean, dust-proof roof space storage room for one of our amazing clients in Albion.
Below, we look at the journey the client took, the kind of house the roof attic storage room was constructed within, the products we used, the price range of the job, and more.
If you'd like to know how we can create your attic storage space, request your free quote here.
Project Brief: Roof attic storage
The client had asked us to create a dust-proof clean attic storage room for their family home.
About the property
This roof space conversion was conducted in a recently renovated high-set Queenslander in Albion, in Brisbane's inner northern suburbs. It had impressive 3.2m ceilings and contained five bedrooms, three bathrooms, and 2 carparks. Originally, the property was a 3 bed, 1 bath, and 1 carpark, but had an extension added to the building.
The owners were a lovely married couple. We aren't sure if they had any kids but given the size of the home, it could have very much fit a large family comfortably.
Roof space available
The couple had a large roof space with a cavity height of approx. 1800mm. The area we ended up renovating was where the extension was added, and therefore the roof in this area was designed with trusses. Despite the trusses, we managed a functional storage room, measuring approximately 11 square metres in total (4.24m x 2.65m). Confining the attic storage room to just 11m2, meant that the requirement for relocating electrical cables, and air con ducting & vents was avoided.
Goal: Converting roof space to storage
These Albion homeowners wanted a clean, dust-free roof space storage room to store their things. The person planning on using the ladder the most is left-handed, so we also had a full-length left-side handrail added for them.
Why did they choose Roof Space Renovators?
We had previously quoted a skylight in the renovated extension they conducted so they were already familiar with Roof Space Renovators.
They must have appreciated the way we took care of them in that process because they came straight to us when they decided they preferred the attic storage space instead.
Roof storage conversion products
We supplied and installed an Aluminium Access-Boss ladder. Our premium-quality attic ladders are great for tall ceilings as they are safer, more angled, have deeper treads, wider treads, and are easier to use for tall ceiling heights.
This couple opted for the budget flooring option bundled with our clean, enclosed storage room solution. It was quite a simple setup as the homeowners just needed a clean, dust-free area to store their items.
An access door was also installed within the new storage room, providing access to the rest of the surrounding roof space. This is a great idea and recommended for ease of maintenance such as your – air con, electrical, pest trades getting easy access to the roof cavity.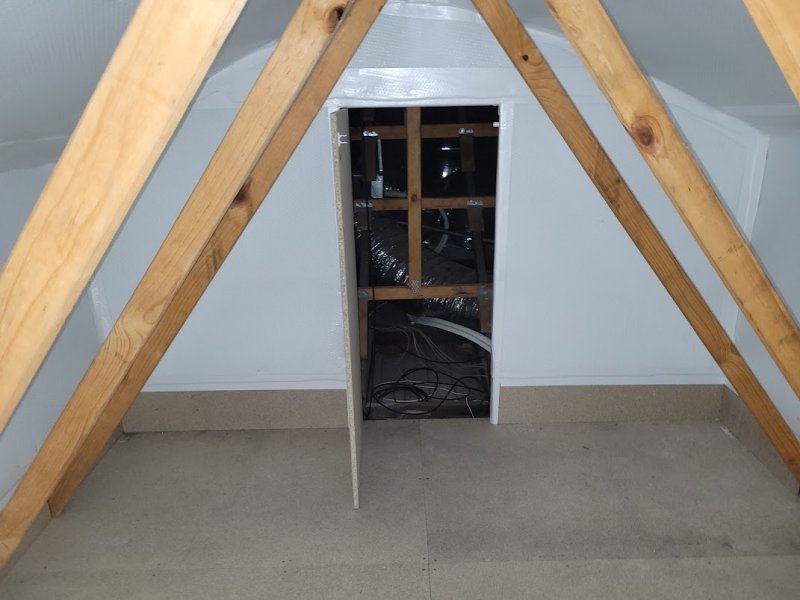 Potential challenges with a roof space conversion
Fortunately, there weren't any challenges the Roof Space Renovators team had to tackle during this project.
Because of the position of the roof space area that we were converting into a storage room we didn't have any obstructions such as air con, electrical, pipes, etc). This meant it was a straightforward job and we could finish the job in 3-4 days without a problem.
Price of attic conversion
The price range for creating this roof space storage was between $8800-$9200. This included the supply and installation of the premium tall attic ladder, the 11m2 clean storage room, an access door for access beyond the room, and QBCC insurance.
Attic storage conversion Albion
After adding an extension to their house, these Albion homeowners wanted some extra storage space, so contacted us. We quickly scheduled a time to inspect the roof space.
After Roof Space Renovators visited and conducted the measurement of the roof space, we gave our guaranteed hassle-free quote. Once the deposit was received the following week, we got to work, completing the entire roof space conversion in just a few days.
Ready to build your own attic storage?
If you'd like to know how we can create your attic storage space, request your free quote here.
---