[et_pb_section fb_built="1″ _builder_version="4.3.2″][et_pb_row _builder_version="4.3.2″][et_pb_column type="4_4″ _builder_version="4.3.2″][et_pb_text _builder_version="4.3.2″ text_orientation="center"]
Fold Away Ceiling Ladder (Brisbane, Sunshine Coast, Gold Coast, Ipswich)
An attic ladder, also known as a number of other common names such as, fold away ceiling ladder, loft ladder, ceiling access ladder, folding attic ladder, manhole ladder, retractable ladder, pull down attic ladder and drop down attic ladder, just to name a few, are becoming more and more popular.  This is because people are realising the benefits a fixed attic ladder provides for themselves and for their home. 
Most homes are built with a traditional manhole for the purpose of accessing the roof space when required.  In order to access the roof space through a traditional manhole, some sort of ladder needs to be brought into the house. It needs to be positioned under the manhole and then the person pulls themself up through the often small, square hole. 
An attic ladder installed into the home, whether as a replacement or in addition to a manhole, relinguishes the need to lug the ladder through the house.  It also provides a larger opening and a more safe and easy way to enter and exit the roof space. This can be particularly beneficial for ducted air-conditioning servicing, insulation installation or replacement, pest control and for accessing plumbing and electrical wires that run through the roof space.
UNSAFE roof space access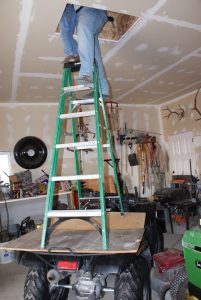 SAFE & EASY roof space access

Roof Space Renovators have numerous attic ladder models available in various sizes, styles and budgets.  Our array of models ensure that we have an attic ladder suitable for most homes and customer requirements.  We are able to supply the product to you for DIY installation, however we also provide an installation service.  Our showroom has a number of attic ladders on display, so you can 'try before you buy'.  The showroom hours are Monday to Friday 9.30am – 2.30pm. Feel free to pop in have a chat with our friendly team.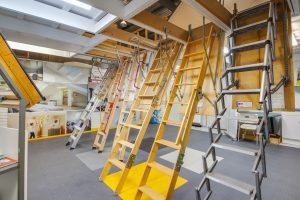 Attic Storage / Attic Conversions
An attic ladder's main benefit is to provide a safe and easy access point to the roof space.  However, an attic ladder also unlocks an area of the home that is commonly unused and therefore completely wasted.  Many people have not even had a look through the manhole, in order to understand the extent of the space that is unused, right above their heads.  Roof Space Renovators specialise in not only attic ladder supply and installation, we also convert dark and dusty, wasted roof spaces, into usable storage areas, storage rooms and even bedrooms, a study or other additional living areas. 
Like our attic ladders, we have a number of options for all different roof pitches, home builds and budgets.  We have a team of qualified carpenters, builders, electricians, roofers and plasterers.  We also have relationships with other quality tradesmen which are occasionally required, such as plumbers.   
If you are considering an attic ladder or making use of your wasted unused roof space, Roof Space Renovators are your 'one stop shop'.  We only supply top quality products, have a solid reputation and pride ourselves on customer service. 
VISIT OUR SHOWROOM – 13/18 Hinkler Court, Brendale Qld 4500.
Roof Space Renovators' service Brisbane, Sunshine Coast, Gold Coast, Ipswich (and all areas in between).
Roof Space Renovators' Specialise in – Attic Ladders, Attic Room, Attic Living, Attic Storage, Skylights & Roof Windows
Contact Roof Space Renovators' for an obligation free consultation – 
Phone – (07) 3889 6688
Email – [email protected]
Website – https://roofspacerenovators.com.au/
[/et_pb_text][/et_pb_column][/et_pb_row][/et_pb_section]