Mezzanine Floor Access Ladder
If you are after an easy to use, safe, quality ladder to access a platform, mezzanine floor or restricted space, you are in the right place!
Roof Space Renovators can supply only (delivery available Australia Wide).  Or we can supply & install in all locations between the Sunshine Coast to Brisbane to Ipswich to the Gold Coast (South East Queensland).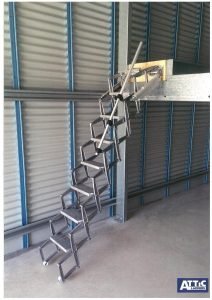 About the mezzanine access ladder
We are proud distributors of the 'Columbus Junior' access ladder and also the 'Columbus Junior Vertical' access ladder.  Both are perfect ladders for accessing mezzanine levels and unusual or restricted spaces offering ease of use and safety, whilst not compromising on quality.  When not in use, both ladder models are conveniently stored out of the way as shown below.
They have a heavy duty construction made from lightweight alloy, boasting a strong, stable 200kg per step load capacity.  They operate with a concertina folding action and are designed to access heights of up to 3290mm. The features and benefits are numerous.  These include safety handrail, alloy or plated metal parts, wide grooved treads, oversized springs guaranteeing long life, gentle 60° access slope, short standout & foldout allowing for use in restricted spaces.  It comes completely assembled from the factory.  Additional handrails are also available.
As mentioned, there are two variations of this ladder.  The standard 'Columbus Junior' and the 'Columbus Junior Vertical'.  Both ladders are identical, however the way in which they are installed and are stored when not in use, as well as the way they operate from the mezzanine floor differ slightly.  In the below photo, the 'Columbus Junior Vertical' is installed on the left and the standard 'Columbus Junior' on the right-hand side.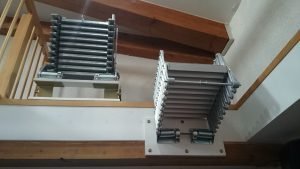 Domestic Application
Whilst not a traditional mezzanine, the below photos show the versatility of the Columbus Junior Vertical.  This shows a perfect example of the ladder in use in an unusual or restricted space.  Roof Space Renovators recently installed this Columbus Junior Vertical access ladder into a unit located at the Sunshine Coast.  The homeowners required a compact vertical style ladder to access an attic storage area within the roof space.  The Columbus Junior Vertical fit perfectly in the required space, both when pulled down and when stored in its closed position.  This ladder provides the home owners with safe and simple access to their stored items.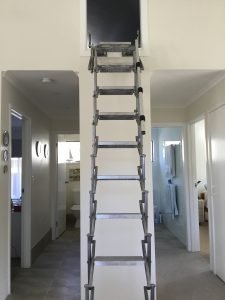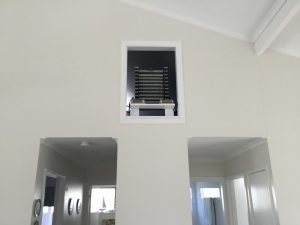 Commercial Application
In its standard form, the Columbus Junior ladder is perfect for every day access to any traditional platforms or mezzanine floors.  As can be seen, it is suitable for domestic or commercial applications.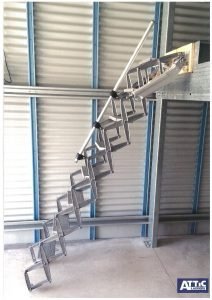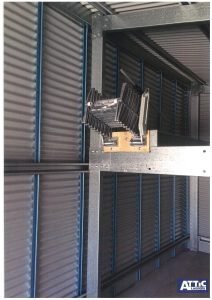 Roof Space Renovators have ladder models for various requirements and applications.  If you are interested in finding out more about our mezzanine access ladders or our standard fold-away attic ladders, let us know.  We are South East Queensland's Attic Specialists. Further, if you would like to find out if your roof space is suitable for storage or living, get in touch.  We service Brisbane, Sunshine Coast, Gold Coast, Ipswich (and all areas in between).
An Attic Ladder in combination with Attic Storage is becoming increasingly popular in South East Queensland.  We have an array of options to suit most budgets.   
Roof Space Renovators' service Brisbane, Sunshine Coast, Gold Coast, Ipswich (and all areas in between).
Roof Space Renovators' Specialise in – Attic Ladders, Attic Room, Attic Living, Attic Storage, Skylights & Roof Windows
Contact Roof Space Renovators' for an obligation free consultation – 
Phone – (07) 3889 6688
Email – [email protected]
Website – https://roofspacerenovators.com.au/
[/et_pb_text][/et_pb_column][/et_pb_row][/et_pb_section]