Home Storage – Brisbane / Sunshine Coast / Gold Coast
Job: Construct a HUGE storage room in the roof space of a unit at Herston for the owner who works from home.
Location: Herston, Qld 4006
Working from home is convenient and provides great flexibility, however it also requires space.  For this customer, who works from his unit situated in an inner Brisbane suburb, he was beginning to feel the squeeze.  Trying to comfortably live uncluttered whilst sharing his living space with his home office was proving frustrating. Therefore, this customer began researching home storage solutions and ways to gain extra space within his home.
This is where he came across Roof Space Renovators and our attic living and storage solutions.  Loving the concept and believing it could be the solution he had been searching for, he popped his head through his manhole in the ceiling to assess the size of his roof space, prior to contacting us.  Following the quick squiz through the manhole, he realised there actually was a massive wasted area of his home up there. He was positive his roof space would suit a storage room, possibly even a bedroom. So, he contacted us to book a consultation to find out what was possible and get a price.  
Before Photos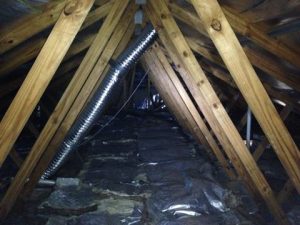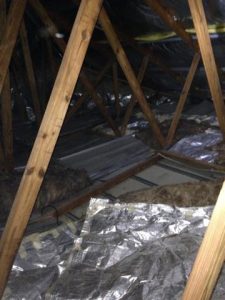 The following week, our consultant visited as scheduled.  Unfortunately, although the roof space was large, it did not have the adequate head height to achieve an attic conversion for use as a bedroom or other living space, without lifting the roof.  However, it was perfect for building a very large clean attic storage room, with enough head height to stand within the room.  
Our consultant explained the proposed layout and build process and showed the homeowner photos of previously completed, similar rooms to what we could achieve for him.  Our consultant also discussed the attic ladder options and placement, including the optional extras available to the homeowner.  Considering he was planning on using the new space regularly, he wanted the room as comfortable as possible.  Armed with a list of notes, including measurements and requested inclusions, our consultant left to do his sums and put together a quote for the homeowner.
Showroom Visit
With the customer happy with the quote he received, there was only one more thing the customer wanted to do before accepting the quote.  This was to visit our Showroom and have a look at the items quoted, such as attic ladder, roof windows and the material used to line the dust proof room.  Our Showroom has many of our available attic ladders on display, including our attic window range.  When visiting our showroom, you are able to open, close and climb our attic ladders.  You can also view our attic windows, and see how they operate.  We have built a storage floor and a clean storage room display, in which our customers can walk on and in to get an idea of what can be achieved.  
Attic Access
Following the visit to our showroom the customer accepted our quote and we scheduled a commencement date. It was agreed the proposed storage room would be a total of 30m2 in size. Our top of the range timber Stairladder Deluxe Attic Ladder would be installed for access to the attic room.  
Attic Windows
We would also install two of the largest Dual Action Opening Fakro Roof Windows with retractable flyscreens.  These windows are very popular additions to our attic rooms, as they allow for natural light and ventilation.  The flyscreens are an optional accessory.  
In addition, Roof Space Renovators would install two hatch doors (seen in pics below) for easy access to the rest of the roof space outside of the storage room and two Solar Whiz heat sensor ventilators.  Each solar whiz ventilator works like 21 whirly birds, therefore this customer will be sure to have a nice cool attic storage room.  Our electrician would also install some powerpoints, LED fluro lights and a wall switch, in addition to some cables that are required to be moved.  The photos below are of the almost complete storage room which took around 7-8 days to complete.  
Our customer was extremely pleased with the end result.
Completion Photos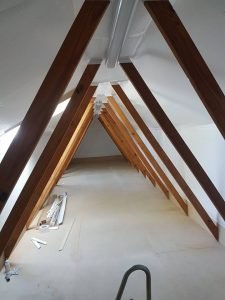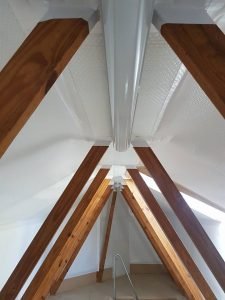 Clean storage is the perfect solution for people wanting to store and easily access their items in a clean roof space environment. Clean Attic Storage Rooms are ideal for storing items such as musical equipment, clothing, books, baby goods and more. Our team construct Clean Attic Storage Rooms with durable white-cell wrap and particleboard flooring.  We install an Attic Ladder for access, and can supply and install a number of optional extras, such as roof windows and other lighting and ventilation alternatives. The flooring is laid as per engineers specifications and has a storage capacity of 75kg per m2 plus foot traffic.  Therefore, these storage rooms are a brilliant way to increase the space in your home.  
If you need storage or another room….Look Up!  Roof Space Renovators can transform you roof space into a storage area or even an extra bedroom.
Got Questions?  Visit our Showroom at 13 / 18 Hinkler Court, Brendale Qld 4500 or phone us on (07) 3889 6688. Alternatively email – [email protected] and we will assist you as soon as possible.  
If you are running out of room, contact Roof Space Renovators.….the solution could be right above your head!
Roof Space Renovators' service Brisbane, Sunshine Coast, Gold Coast, Ipswich (and all areas in between).
Roof Space Renovators' Specialise in – Attic Ladders, Attic Room, Attic Living, Attic Storage, Skylights & Roof Windows
Contact Roof Space Renovators' for an obligation free consultation – 
Phone – (07) 3889 6688
Email – [email protected]
Website – https://roofspacerenovators.com.au/
[/et_pb_text][/et_pb_column][/et_pb_row][/et_pb_section]