Roof Storage / Attic Storage / Loft Storage Options
Roof Storage / Attic Storage / Loft Storage – Servicing Brisbane – Sunshine Coast – Gold Coast – Ipswich (and all areas in between)
If you are in need of some extra storage space within your home, consider our Roof Storage / Attic Storage / Loft Storage options.  Attic storage is becoming increasingly popular within Brisbane and surrounding suburbs, as well as the Sunshine Coast and the Gold Coast.  This is due to its ability to make use of wasted space that is already existing within the home. 
Roof Space Renovators service most of South East Queensland, supplying and installing the widest range of Attic Ladders, Attic Storage areas and rooms, conducting full Attic Conversions and builds, as well as supplying and installing Roof Window style skylights.  Roof Space Renovators are a family owned and operated company.  We have a qualified team of builders, carpenters, consultants, electricians, plumbers, plasterers, roofers, asbestos removers, engineers etc who work together to ensure your attic project runs smoothly from concept to completion.

OUR SERVICES
1. Attic Ladder supply & installation:-
If it is just the attic ladder you are after, we have you covered.  Roof Space Renovators have the largest range of Attic Ladder models and brands on the Qld market.  We provide an in-home consultation, in which our consultant will discuss our range.  He will also discuss the possible ladder installation locations within your home and provide an obligation free quotation for supply and installation.  If our quote is accepted, we will schedule for one of our qualified carpenter / installers to return to conduct the installation.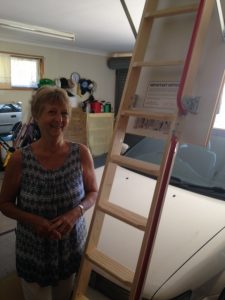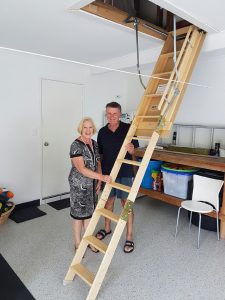 2. Budget Attic Storage Area:- 
This option is the perfect solution for people looking for a standard, easy-to-access storage area for their occasional use items. The budget roof storage option is best for storing sealed boxes and storage containers.  Commonly stored items are esky's, sports gear and other occasional use items such as the Christmas tree and decorations. The installation process usually takes only 1 day to complete (dependent on size).  It involves installing a roof space access ladder & flooring suitable for storing up to 75 kg per m2 plus foot traffic.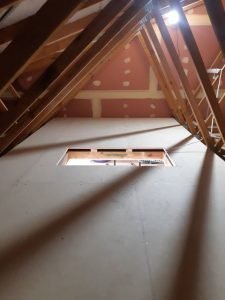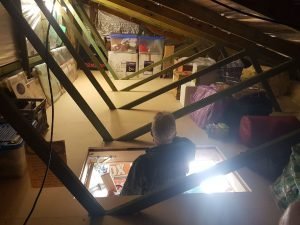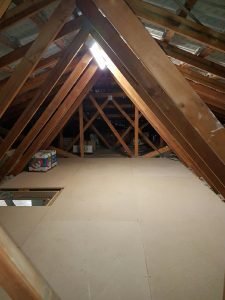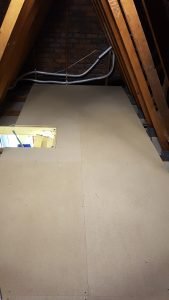 3. Clean Attic Storage Room:-
A Clean Attic storage room is the perfect storage solution for people wanting to store and easily access their items in a clean roof space environment. These storage rooms are ideal for storing items such as musical equipment, clothing, books, baby goods and more. Our team constructs Clean Storage Rooms with durable white-cell wrap, particleboard flooring and an Attic Ladder.  There are also a number of optional extras, such as roof windows and other lighting and ventilation alternatives. The installation process is usually completed within 3 – 5 days (dependent on size and optional extras).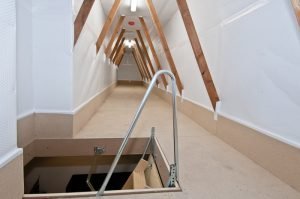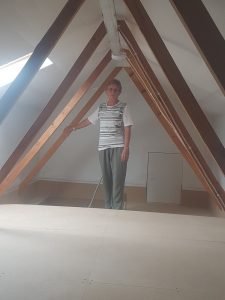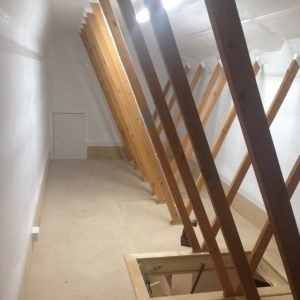 4. Deluxe Attic Storage Room:- 
A Deluxe Attic storage room, comes complete with a superior finish.  This option includes gyprock walls and a structural floor, allowing for heavier storage requirements and frequent foot traffic.  Roof Windows are installed allowing for natural light and ventilation. Additional options such as electrical works can be included. Due to the premium design and build of this form of roof space conversion in combination with the aesthetic appeal, these rooms are commonly used as required additional rooms in the house, such as a hobby room, kids play room, study or TV room.  The build of an attic Deluxe Room is usually completed within 4-8 weeks, dependent on size and inclusions. 
If space is limited in your home, a Deluxe Roof Space Renovation accessed by one of our top quality attic ladders could be the answer. Especially if you consider that up to 30% of the space in your home could be unused space right above your head. That much needed extra room might be easier and more cost effective to obtain than you think!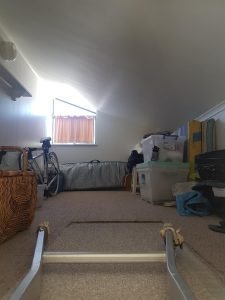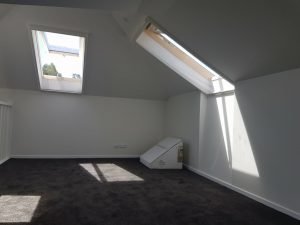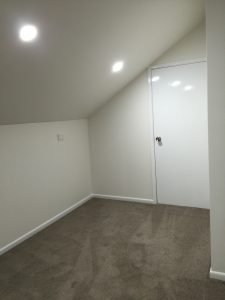 Roof Space Renovators' service Brisbane, Sunshine Coast, Gold Coast, Ipswich (and all areas in between).
Roof Space Renovators' Specialise in – Attic Ladders, Attic Room, Attic Living, Attic Storage, Skylights & Roof Windows
Contact Roof Space Renovators' for an obligation free consultation – 
Phone – (07) 3889 6688
Email – [email protected]
Website – https://roofspacerenovators.com.au/
[/et_pb_text][/et_pb_column][/et_pb_row][/et_pb_section]