[et_pb_section fb_built="1″ _builder_version="4.3.2″][et_pb_row _builder_version="4.3.2″][et_pb_column type="4_4″ _builder_version="4.3.2″][et_pb_text _builder_version="4.3.2″ text_orientation="center"]
Storage Room in Roof Space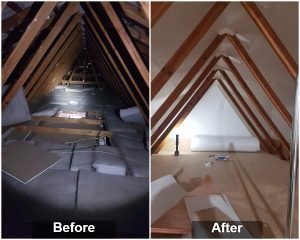 Job: Create a functional storage room in roof space of this Forest Lake home, giving the owners maximum usage space.
Location: Forest Lake, Qld 4078
One of the most common questions asked – How much height is needed for a roof space to be used for storage?  
If you are needing storage only and the pitch of your roof looks like this:-
This roof is perfect for basic storage or it can be converted into a functional clean storage room.
The owners of this Forest Lake home desperately required extra space.  With the house situated on a 300m2 – 350m2 block, alternative solutions such as a shed or garage were not feasible options. 
This is a common issue for many homeowners located in the Brisbane and surrounding suburb areas.  They love their homes and location, however, they are lacking that extra bit of space they require.  Whilst lack of storage and or extra space is a common issue, making use of the roof space is not often thought of. Although we are pleased to say that the concept is becoming increasingly popular in South East Queensland.
These clients discovered the concept and our company through a Facebook advert that we were running at the time.  The clean storage room option was of particular interest, as they were after a storage solution that kept their belongings clean and vermin proof.  Whilst the pitch of their roof only allowed for standing and walking in a slightly crouched over position, these clients were after storage, storage, storage, therefore this was not an issue for them. They simply wanted us to provide them with the most practical storage room, maximising the storage potential to its greatest. They also requested the safest, easiest to use attic ladder, for regular access to the stored belongings that were important to them.  Needless to say they were more than happy with the completed project.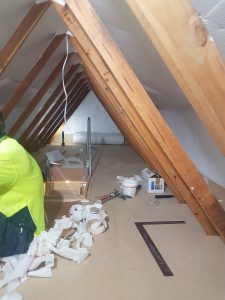 These clients now have an extra 20m2 of usable space within their home.  This storage room is safely and comfortably accessed via the top of the range StairLadder Deluxe Attic Ladder.  The homeowners and even tradesman can easily access the remainder of the roof space if required, through the access hatch door we installed.  In addition, our electrician installed a powerpoint and a fluro light to complete the room.  
Attic Storage is becoming increasingly popular in South East Queensland, with an array of options to suit most budgets.
Roof Space Renovators' service Brisbane, Sunshine Coast, Gold Coast, Ipswich (and all areas in between).
Roof Space Renovators' Specialise in – Attic Ladders, Attic Room, Attic Living, Attic Storage, Skylights & Roof Windows
Contact Roof Space Renovators' for an obligation free consultation – 
Phone – (07) 3889 6688
Email – [email protected]
Website – https://roofspacerenovators.com.au/
[/et_pb_text][/et_pb_column][/et_pb_row][/et_pb_section]