[et_pb_section fb_built="1″ _builder_version="4.3.2″][et_pb_row _builder_version="4.3.2″][et_pb_column type="4_4″ _builder_version="4.3.2″][et_pb_text _builder_version="4.3.2″ text_orientation="center"]
Attic Roof Storage Solution – (Sunshine Coast, Brisbane, Gold Coast)
Job: Create an attic roof storage solution in the roof space of this home situated on the Sunshine Coast, for the purpose of storing large amounts of craft goods.
Location: Pelican Waters Qld 4551
This homeowner loves her arts and crafts.  This hobby however, requires a fair amount of space, considering art and craft supplies are always being added to the unlimited collection and further the requirement of an area for the completed projects to be stored.  A separate space in the home was required for this purpose, so when this homeowner came across our stand at the March 2017 Brisbane Home Show, she decided to enter our attic ladder giveaway competition and requested a phone call to organise a consultation.  Amongst hundreds of competition entries, this homeowner was lucky enough to win our competition.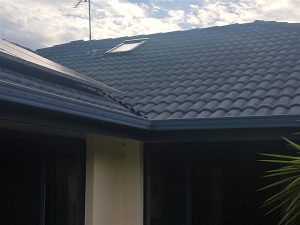 We promptly gave her a call with the good news and she booked in a time for our consultant to arrange an in-home consultation. Considering this homeowner had been searching for a storage solution for her arts and crafts for quite a while, she quickly and confidently decided that a dust proof storage room was what she required. Given that our dust proof attic storage solution provides homeowners with a storage room separate to the elements of the rest of the roof space, a dust proof storage room is the perfect storage solution for people wanting to store more valuable items and items that are not necessarily stored in boxes or containers, such as clothes, baby goods, paperwork and arts/crafts supplies etc.  
This homeowner decided on a 15m2 Dust Proof Storage Room.  We were able to run the room right through the center of the trusses, giving her maximum area for storage.  Our dust proof storage rooms allow for a storage capacity of 75kg per m2 plus foot traffic.  
This homeowner also chose to have a roof window installed into the room for light and ventilation.  Roof Space Renovators are the exclusive Queensland distributor and installer of Fakro Skylights and Roof Windows.  We also supply and install Velux.  In this room, we installed a dual action opening Fakro roof window.  
Remembering that this homeowner was the lucky winner of our attic ladder giveaway promotion, she actually chose to have the more basic ladder that she had won, upgraded to the top of the range timber attic ladder.  The Stairladder Deluxe is our top of the range timber attic ladder due to the many features that set it apart from the rest such as, weight capacity, ladder angle, depth of treads, easy and safety of use etc etc.  For this homeowner, she was planning on using her new storage room daily, therefore required the easiest to use and safest ladder available.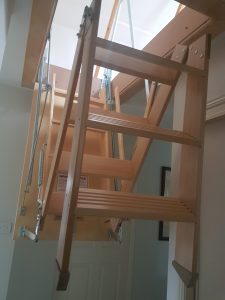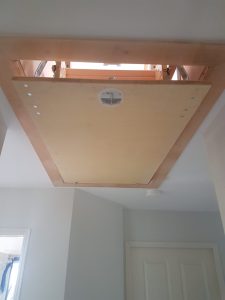 In addition to the roof window, our customer also required additional lighting.  Therefore, we organised our electrician to install a fluro LED light and neon wall switch (details below), a powerpoint and a smoke alarm for safety.
Blue indicator showing light is ON in the attic.
No blue indicator showing light is OFF in the attic.
Considering that the roof space of this home was just a few weeks ago, empty, dark, dusty and completely wasted, it is safe to say, our client was extremely pleased with her new art and craft storage room.  We received this lovely testimonial in addition to numerous photos of our client in her dust proof room and using her attic ladder:
'Please find attached receipt for the final payment of the invoice for the dust proof room you installed for me last week.  Room is great.  Please send my well done to Andrew (chippy), Simon (window chippy) and Lee (electrician). Pleasure to have them working on and in my home'.  (Glenda, Pelican Waters)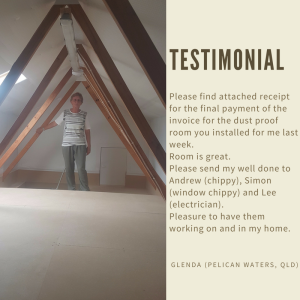 If you need storage or another room…..Look Up!  Roof Space Renovators can transform your roof space into a storage space or even an extra room.
Got Questions?  Visit our showroom at 13 / 18 Hinkler Court, Brendale Qld 4500 or contact us on (07) 3889 6688. Alternatively email [email protected] and we will assist you as soon as possible.
If you love your home and location, you don't need to leave it all behind because you are running out of space.  The solution could be right above your head!
Roof Space Renovators' service Brisbane, Sunshine Coast, Gold Coast, Ipswich (and all areas in between).
Roof Space Renovators' Specialise in – Attic Room, Attic Ladders, Attic Living, Attic Storage, Skylights & Roof Windows
Contact Roof Space Renovators' for an obligation free consultation – 
Phone – (07) 3889 6688
Email – [email protected]
Website – https://roofspacerenovators.com.au/
[/et_pb_text][/et_pb_column][/et_pb_row][/et_pb_section]