[et_pb_section fb_built="1″ _builder_version="4.3.2″][et_pb_row _builder_version="4.3.2″][et_pb_column type="4_4″ _builder_version="4.3.2″][et_pb_text _builder_version="4.3.2″ text_orientation="center"]
Attic / Loft Living & Storage Solutions
Job:  To provide Queensland homeowners with an affordable and practical extension alternative and or in-home storage solution, with attic loft conversions.
Location: Brisbane / Sunshine Coast / Gold Coast / Ipswich (and all areas in between).
It is no secret that during the past few years, home renovating has become increasingly popular.  Many homeowners are opting to 'stay-put' and renovate or extend, rather than move.  Among other reasons, this could be due to expensive buying / selling fees, government transfer costs, general moving costs and/or that the homeowner loves their home and location and can see potential.  Further, over the last few years, our television screens have seen a spike in reality renovation programs, painting pretty…..and not so pretty, home renovation scenarios, such as House Rules, Renovation Rumble and The Block.
Firstly, we would like to say if you are considering an extension, 'Have you thought about going up'?  Roof Space Renovators' service all requirements, from basic Roof Space Storage through to Attic Living.  
A complete attic conversion as seen in the below photos could be a brilliant option, especially if you are on a smaller block OR in the locality to possibly gain city views by extending upwards.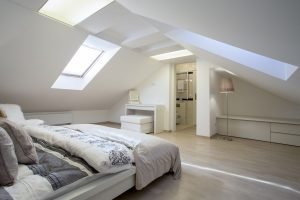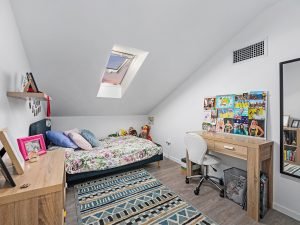 Anyway, back to storage……..
When you think 'renovation' and the end product, you think new, clean, stylish, trendy, practical and uncluttered.  All well and good, but…..once your home is renovated, what are you to do with all the items you don't want to rid yourself of?  All the items that once had a place and now don't?  You could hire a storage unit or container, where you have to pay huge monthly fees, additional insurances and travel to unlock your possessions. Or you could invest up-front in an attic / loft storage area, accessed via one of our quality attic ladders and store your items safely and conveniently, right above your head.
We have three (3) roof space storage options available.
1. Basic Storage Area.
2. Dust Proof Storage Room.
3. Premium Storage Room.
Basic Roof Space Storage 
This is a top solution for budget-minded people who require storage for sealed boxes, items in containers and general occasional use items such as the Christmas tree, decorations etc.  Light & Ventilation options are available.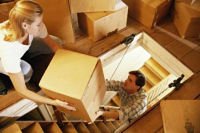 Dust Proof Storage 
This is the perfect solution for people who want to regularly access there storage and/or don't want to necessarily store items in sealed boxes and plastic containers. Items such as musical instruments, clothes racks, baby items (cots, bassinets, blankets etc) are perfect for this form of storage.  The room is framed out and lined with whitecell insulation.  There are plenty of light & ventilation options available to complete the room.  
Both our basic and dust proof storage options have a 75kg per m2 weight load capacity as per structural engineers standards.
Premium Storage 
This involves building a structural floor allowing for an unlimited storage capacity.  The room is complete with gyprock walls.  A room such as this can serve as a semi-habitable purpose and is our top of the range storage solution.  
Our basic and dust proof storage solutions are always accessed via an attic ladder.  Our Premium Storage rooms can be accessed via an attic ladder, or a staircase.  We have multiple sizes and models of attic ladders suitable for all homes, budgets and requirements.  Our showroom is situated at 13 / 18 Hinkler Court, Brendale Qld 4500, where you can open, close and climb our range of attic ladders.
If you are about to embark down the renovation / extension path….look up!  Maybe a complete attic conversion could be the solution you have been searching for?  Otherwise, quite possibly you may require a storage area to help you de-clutter or assist you maintain a clutter-free home?
Ask us about our Finance Options:
Reno Now, Pay Later.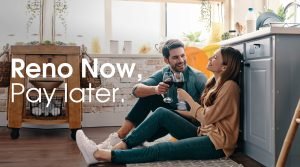 Roof Space Renovators' service Brisbane, Sunshine Coast, Gold Coast, Ipswich (and all areas in between).
Roof Space Renovators' Specialise in – Attic Room, Attic Living, Attic Ladders, Attic Storage, Skylights & Roof Windows
Contact Roof Space Renovators' for an obligation free consultation – 
Phone – (07) 3889 6688
Email – [email protected]
Website – https://roofspacerenovators.com.au/
[/et_pb_text][/et_pb_column][/et_pb_row][/et_pb_section]