Attic Conversion / Attic Living
Add an extra room or two to your home the affordable way – with an Attic Conversion / Attic Living Room by Roof Space Renovators.
With a huge gallery of completed 'Qld Based' attic conversion projects, in combination with our exemplary testimonials and reviews, Roof Space Renovators are proud to be Queensland's leading Attic Conversion Specialists.  
Roof Space Renovators service Sunshine Coast, Brisbane, Gold Coast and Ipswich (including all areas in between).  We unlock Queensland roof spaces and transform them into deluxe attic living rooms and attic storage spaces.  Many homeowners do not realise that the wasted space in their roof is full of potential.  Therefore our aim is to educate and help Queenslander's unlock this potential.  We do this by converting it into a usable space, ultimately adding value to their property.
For a free quote, contact our friendly team on (07) 3889 6688 or Complete an enquiry form here.  

Attic Living Conversions
If your home is in need of an extra livable space, such as a bedroom and bathroom or lounge room, consider an attic conversion and add value to your home.  If you are not sure if your roof space is suitable, Roof Space Renovators can help.  All you need to do is get in touch and we will organise for one of our friendly consultants to visit.  We will discuss your requirements, assess your roof space and subsequently advise on what is achievable. 
If my roof space is suitable for what I want, what next?  
Providing quotes for converting roof spaces into livable rooms, is not as simple a process as quoting for an attic storage room.  At the initial visit, our consultant will compile as much information as possible in relation to what you desire from your roof space. He will also take measurements and assess the area for obstacles such as electrical cables, air conditioning, pipes and special features of your home.  Our consultant will then go away, compile all the information and then provide you with a preliminary quotation which outlines the proposed scope of works, including council planning and requirements, structural engineering and architectural drawings. 
From this preliminary quotation stage, we can then together work out the particulars of the proposed works, providing a more fixed price based on this.  Once you are happy with the quoted price, we take care of the rest.  Easy as that!  You are on your way to a more spacious, comfortable home.
Client Testimonials
We recently conducted an attic conversion by adding two extra bedrooms to a home located in Karalee Qld 4306.  They were very happy with their decision to convert their roof space and for choosing Roof Space Renovators.
Gail & Luke Testimonial
After researching numerous options over 1 year to add an extra bedroom to our house, we finally chose to build a premium storage room with Roof Space Renovators. Admittedly, we were a little scared at the thought of having a large hole cut open in the middle of our living/kitchen/dining area – however this option seemed like the best by far with respect to price, usability, resale value and build time.
Throughout the entire process, Andrew and his team were wonderful to deal with. Their level of customer service and workmanship was second to none and not something you see very often nowadays. We particularly liked how Andrew, John (the builder) and the engineer attended site and consulted with us to find a suitable solution to turning the space into two bedrooms instead of one (we ended up with an issue of both older children wanting their rooms up there). We found one and the build commenced a couple of weeks later, with the entire project (inclusive of our engaged trades, eg flooring, painting, aircon install) being finished in 3 weeks and just before Christmas. We could not believe how perfectly everything went.
Now several weeks later, the kids are loving their new bedrooms and we now have a spare room for guests (or storage!). In addition to the premium storage room, Roof Space Renovators also installed a skylight as part of the above project. It has made such a difference to our home office. Previously a very dark room, which required lights on at all times, it is now bright and fantastic to work in. No more sore eyes! Based on our experience with Roof Space Renovators, we would highly recommend them to others and would certainly use them again. Thanks so much Andrew, John, Jodie & team.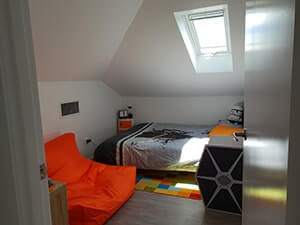 Similarly, Erika from Sunnybank Qld 4109 was also extremely pleased with her decision to build in her wasted roof space, adding a couple of extra bedrooms to their home.
Erika Testimonial
An amazing team of professionals! From the first call to the office this company was helpful, quick, honest and reliable. The builder spent almost a day trying to work out a problem with our original plan and came up with an idea even better than the original. They were so committed to making a space that we were 100% happy with and we were. It's such a great and affordable way to gain extra space/rooms compared to an extension. Can absolutely recommend!!! This company is fantastic.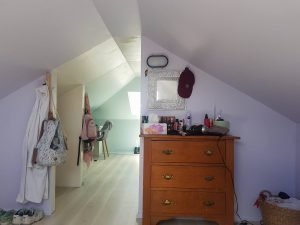 If you are in need of some extra space within your home, an attic conversion / attic living room could be the perfect solution. 
Roof Space Renovators' have been converting dark, dusty, wasted roof spaces for years in Queensland.  Don't just put up with limited space, contact us for an obligation-free consultation. Find out if an attic / loft conversion is a suitable option for your home! 
Roof Space Renovators' service Brisbane, Sunshine Coast, Gold Coast, Ipswich (and all areas in between).
Roof Space Renovators' Specialise in – Attic ladders, Attic Room, Attic Living, Attic Storage, Skylights & Roof Windows
Contact Roof Space Renovators' for an obligation free consultation – 
Phone – (07) 3889 6688
Email – [email protected]
Website – https://roofspacerenovators.com.au/
[/et_pb_text][/et_pb_column][/et_pb_row][/et_pb_section]