[et_pb_section fb_built="1″ _builder_version="4.3.2″][et_pb_row _builder_version="4.3.2″][et_pb_column type="4_4″ _builder_version="4.3.2″][et_pb_text _builder_version="4.3.2″ text_orientation="center"]
Skylight Installation Brisbane
Let Roof Space Renovators add some extra brightness and light into your home with a skylight installation Brisbane.
We'll help you bring the outside in, with our extensive range of skylight and roof window products.
We'll take care of every step of the process from quotes to installation and final touches with everything else in between.
Let us help you with your next skylight project. Call us on 07 3889 6688, send us an online enquiry or drop into our showroom at 13/18 Hinkler Court, Brendale.

Our Skylight Products
At Roof Space Renovators, we specialise in installing glass skylights, as we believe they are superior to any alternatives.
Our glass skylights are available in 5 different brands, numerous sizes and various models include:
fixed (non-opening)
manual opening
electric opening
solar opening
dual action opening roof window (for within reach)
To enhance your skylight experience, flyscreens are fitted as standard to manual, electric and solar opening skylights. We also offer blinds for our entire range of manual, electric and solar skylights.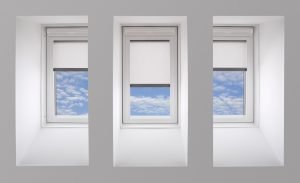 Benefits of installing a skylight
Installing a skylight can really change the look and feel of a room and in turn, your whole property.
Here are a few more reasons they will make a good fit for your home:
Gain additional natural light.
Extra air/ventilation (if you install an opening skylight).
They are a feature of the property.
Bring the outside in – you can see the clouds, sunlight, moonlight, stars, rain etc.
Energy efficiency.

Why should Roof Space Renovators install your skylight?
Not only do we want to help you make a difference to your home, we want you to be happy with our team for doing the job.
Here's why you should engage Roof Space Renovators to undertake your skylight project:
We are distributors/agents for the 5 top brands of skylights in Brisbane and we have the ability to provide choice/options.
You are guaranteed nothing but a professional job.
We are specialists/experts in skylight installation.
We conduct the installation from concept to completion including professional consultation, installation into the roof, shaft build, electrical work (if required), shaft finish, ready for painting.
We have a builders licence.
We may not be the cheapest but we are the best.
Note: Many skylight installers are only licensed to install the skylight into the roof and the homeowner is then required to hire other trades to complete the remainder of the job. We do the complete installation from start to finish, setting us apart and making the whole process easier for you.
Why Choose Roof Space Renovators?
Here are just a few reasons to work with our team:
We are a family owned and operated business.
We are QBCC licenced builders.
We only distribute and install the highest quality products.
We have multiple options and provide you with the flexibility you need.
We have a large showroom display you can come and view to see what we have to offer.
We will provide you with a friendly, no obligation consultation.
Skylight Installation Brisbane
If you want to let the natural light filter in, let Roof Space Renovators change your home with a new skylight today.
Call Roof Space Renovators on 07 3889 6688 or send us an online enquiry.
Roof Space Renovators' service Brisbane, Sunshine Coast, Gold Coast, Ipswich (and all areas in between).
Roof Space Renovators' Specialise in – Attic Ladders, Attic Room, Attic Living, Attic Storage, Skylights & Roof Windows
Contact Roof Space Renovators' for an obligation free consultation – 
Phone – (07) 3889 6688
Email – [email protected]
Website – https://roofspacerenovators.com.au/
[/et_pb_text][/et_pb_column][/et_pb_row][/et_pb_section]