[et_pb_section fb_built="1″ _builder_version="4.3.2″][et_pb_row _builder_version="4.3.2″][et_pb_column type="4_4″ _builder_version="4.3.2″][et_pb_text _builder_version="4.3.2″ text_orientation="center"]
Attic Storage Conversion
If you are lacking space within your home, it makes sense to take advantage of your unused roof space!   This is exactly what this Boondall couple did, with an attic storage conversion… and they love it!  
Location – Boondall  Qld  4034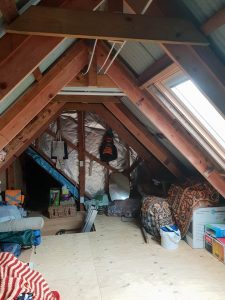 Benefits of an attic storage conversion
As our suburbs are becoming more densely populated with developments galore, houses being built on small blocks and apartments / townhouses popping up everywhere, the requirement for storage is becoming ever-increasing.  A shed or extension may not be an option due to small land size. The sheer cost of monthly rental fees for self-storage facilities may be out of the question entirely.  The spare room may be full of everything sitting on and under the spare bed.  The cupboards may be overflowing, or the garage may be full of everything except the car.  If this sounds like you and you are a South East Queensland homeowner….we may very well have the perfect storage solution for you!       
This may come as a surprise…BUT…the majority of Queensland homes have a roof space suitable for storage.  However, the majority of Queensland homeowners unknowingly allow this space to be wasted. This is despite the fact that it could potentially be an extremely useful area of their home and solve their storage / space issues.  A basic attic storage conversion accessed via an attic ladder is not only an incredibly affordable and convenient storage solution, it is an improvement / investment into your own home.  Further, attic storage allows for your stored items to be conveniently located and easily accessible for whenever you need or want them, at a fraction of the lifetime cost of renting a storage space.
About this job
It is for all of the above reasons, that this Boondall couple decided to stop allowing their roof space to go to waste and arranged to have it converted into a basic attic storage area. For them, it just made sense.  They needed the space, they were not keen on spending a fortune on renting a self-storage unit and they loved the idea that they could access their stored items conveniently, whether adding to it or removing from it whenever they needed or liked.  Not to mention the addition of an attic ladder and attic storage would be an improvement to their own home.  They wanted to make the most of the space available to them, therefore following a measure and quote, they decided on getting 20m2 of storage space installed. 
The storage flooring supplied and laid by Roof Space Renovators is rated to 75kg per m2 storage capacity PLUS foot traffic. One factor that was extremely important to this couple, is that the storage area had natural light and ventilation.  The best option available, that serves this exact purpose, is an attic window / roof window.  Our attic window's are dual action opening.  This means they open out from the bottom (top hung) and they can also be switched into centre-pivoting mode.  When the window is in centre-pivot mode, it spins right around, allowing for cleaning of the outside of the window. 
This couple also opted for a blind as an optional accessory.  They wanted to be able to have the option of having the blind opened or closed at any given time. The blinds are blockout and are installed on the internal of the window frame.  They are easily opened and closed by simply pulling it down or pushing it back up.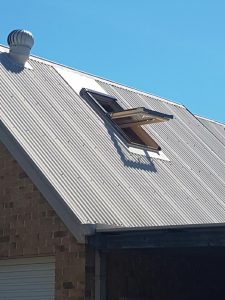 Attic Storage Options
Basic attic storage is only one of the attic storage options available with Roof Space Renovators.  Our other storage options include dust proof storage rooms and premium attic storage rooms.  Which option is best suited to your individual requirements and budget, can be discussed with our staff over the phone, in our showroom OR an appointment can be made with our consultant, for him to visit in order to discuss the available options and the suitability of your roof space for each.  
For this couple, basic attic storage was best suited to them and their roof space was perfect for it.  They are over the moon with their decision to make use of the once wasted area in their roof space.  They are now able to declutter their home and garage but still have all their items easily accessable by being stored within their own home.    
If you are also in need of more storage or extra space….look up!  Helping homeowners make more of all the space under their roof is what we specialise in.  We have multiple roof space storage options to suit all requirements and budgets.  Therefore, if you require more storage, contact Roof Space Renovators' to organise a consultation to find out how you can start making use of all the available space in your home.
Roof Space Renovators' service Brisbane, Sunshine Coast, Gold Coast, Ipswich (and all areas in between).
Roof Space Renovators' Specialise in – Attic Ladders, Attic Room, Attic Living, Attic Storage, Skylights & Roof Windows
Contact Roof Space Renovators' for an obligation free consultation – 
Phone – (07) 3889 6688
Email – [email protected]
Website – https://roofspacerenovators.com.au/
[/et_pb_text][/et_pb_column][/et_pb_row][/et_pb_section]