Fixed Glass Skylight
Job:  Help these homeowners gain more natural light in their dark kitchen / dining area with a large fixed glass roof window style skylight.
Location:  Brookfield, Qld 4069.  We service Sunshine Coast, Gold Coast, Brisbane, Ipswich (and all areas in between).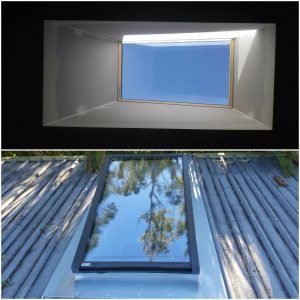 Not every home is flooded with an abundance of natural light.  We are contacted regularly by people wanting and needing more natural light in a dark room or area within their home.  Fortunately, this is usually something we can help with, thanks to our quality roof window style skylights. Our skylights are perfect for 'bringing the outside in'.  Roof Space Renovators are DISTRIBUTORS of five (5) major European and Australian manufactured skylight brands – FAKRO, VELUX, KEYLITE, ATLITE & INFINITI.  We are also licensed builders. This means, not only do we supply and install the glass skylights into the roof, we can also build and complete the internal Gyprock shaft.
'Bringing the outside in' is exactly what these homeowners needed.  They had a dark kitchen / dining area that was in desperate need of natural light.  Like many people searching for a solution to a problem, these clients began their research via Google.  They stumbled upon us and liked the idea of having the choice of skylight brands. They were also hoping to have the entire job completed by the one company. So, they booked for an in-home consultation. 
During a Roof Space Renovators' skylight consultation, our consultant needs to firstly discuss the desired quantity and size of the skylights, in the proposed area. The consultant will then need to inspect the roof space in the area and measure between the ceiling joists / trusses.  This is what determines whether the desired skylight number and size will work in the proposed area of the home. 
Following this initial inspection of the roof cavity, the consultant will discuss what will work, and propose possible alternative options.  The consultant will also need to inspect the roof, note the roof material, condition of the roof and measure the pitch.  All of these factors will determine the quoted price.
As mentioned, these clients primary goal was to gain natural light in the dark dining / kitchen area. Therefore, they were hoping for a large skylight and was happy for it to be fixed (non-opening). 
During the inspection, the consultant was able to establish that the proposed location was clear of obstruction.  Further, the design of the roof would allow for a large 768mm wide and 1372mm long skylight.  European designed skylights are designed to be pitched at a minimum of 15°. The flashing kit that comes with European skylight brands, works for tile roofs only.  In this case, the consultant established that the roof was Zinc Trimdeck and the pitch of the roof was only 5°.  Considering the homeowners preference was for the European brand FAKRO, a custom-made flashing pitched to 10° would be required for the installation of the skylight.  Whilst this is an added expense we would not install the skylight into this particular roof without it.  Installing with a custom flashing base is the only way we could guarantee the skylight will not cause ongoing future problems with leaking.
Taking all factors into consideration, our consultant was then able to provide a quote, for a fixed glass skylight, which the homeowners quickly accepted.  Within a couple of weeks, these clients were enjoying the natural light the skylight was allowing into their home.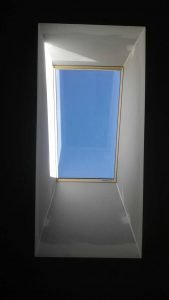 Our installation team is trained and fully qualified in both tile and metal installations.  We install the skylights into the roof and complete all internal works required.  All that is left to do, is paint the shaft and surrounding ceiling. We are fully insured.  Further, we have a current Queensland builders licence and are members of Master Builders Qld and Housing Industries Australia.  Therefore, if you choose to engage Roof Space Renovators' to conduct your skylight project, you are not only getting a choice of the highest quality branded products, you can also be assured to receive a superb quality installation service.
Our beautiful glass skylights allow for natural light and ventilation (if required) and will definitely set your home apart from the rest.  
Roof Space Renovators' service Brisbane, Sunshine Coast, Gold Coast, Ipswich (and all areas in between).
Roof Space Renovators' Specialise in – Attic Ladders, Attic Room, Attic Living, Attic Storage, Skylights & Roof Windows
Contact Roof Space Renovators' for an obligation free consultation – 
Phone – (07) 3889 6688
Email – [email protected]
Website – https://roofspacerenovators.com.au/
[/et_pb_text][/et_pb_column][/et_pb_row][/et_pb_section]