[et_pb_section fb_built="1″ _builder_version="4.3.2″][et_pb_row _builder_version="4.3.2″][et_pb_column type="4_4″ _builder_version="4.3.2″][et_pb_text _builder_version="4.3.2″ text_orientation="center"]
Highest Quality Timber Attic Ladder – Queensland
Location:  Supply & Installation – Brisbane, Sunshine Coast, Gold Coast, Ipswich (and all areas in between)   
                Supply Only – Australia Wide
If you are in the market for a quality timber attic ladder and only the best will do, look no further than the Stair Ladder Deluxe. The Stair Ladder Deluxe is designed for regular use. It is perfect for customers who want the absolute highest quality in a timber attic ladder.  This ladder is the safest and easiest to use. It is also the strongest timber attic ladder in our range.  Further, the Stairladder Deluxe is the most attractive roof space access ladder in our timber range. This can be an important factor for those who plan to use the ladder regularly, as it will likely be spending a fair amount of time down in the interior of the home.
Therefore, the Stair Ladder Deluxe is commonly the ladder of choice for customers who are engaging Roof Space Renovators to build a Deluxe Attic Room or large Clean Storage Room.  For these customers, they plan on regularly accessing and spending a significant amount of time in their roof space. Therefore both safety, ease of use and the aesthetic appeal of the ladder is important.
So what features make the Stair Ladder Deluxe such a top quality product?  For starters, it is an Australian-made attic ladder constructed from premium Australian hoop pine.  It is finished with a double lacquer coating providing the highest quality appearance, with rubber feet for floor protection.  The ladder is suitable for ceiling heights of up to 3500mm and boasts wide, deep treads.  Further, it is thoughtfully built to a gentle 57° climbing angle with a full length handrail for climbing safety and stability.  The parts and components such as hinges and springs are heavy duty and the ladder has been built to be completely spring loaded.  This means that it is entirely weightless and can be operated safely and easily with just one arm.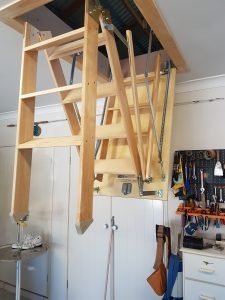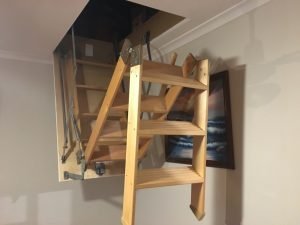 The real beauty of this attic ladder, is that it is suitable for everyone to use. From children to the older generation and for people of all shapes and sizes, this ladder is perfect.  The frame is available in two sizes, 680mm and a wide 880mm for the broadest shoulders and ease of storage of the larger items.  It also has a huge 410kg weight load capacity and a heavy duty 20mm laminated hatch that has been cleverly built to actually separate itself from the ladder treads when down.  With the hatch completely separate to the ladder when in use, the familiar knocking of the toes on the hatch as you climb or descend a regular attic ladder is eliminated entirely.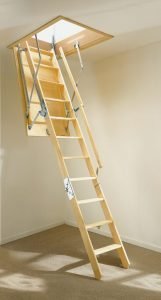 For added security, the ladder comes standard with a metal in-ceiling handrail.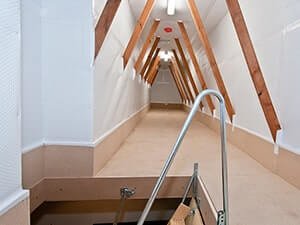 When considering all the features and benefits of the Stair Ladder Deluxe, it is difficult to think of anything that could have been added or changed to make its design any better.  It is certainly not a 'regular' attic ladder.  Its design has carefully incorporated the most important aspect of safety, whilst ensuring it has not compromised on its quality and looks.  This makes the Stair Ladder Deluxe the highest quality timber attic ladder available on the Australian market.
Roof Space Renovators regularly supply and install the Stair Ladder Deluxe for customers around South East Queensland.  Our customers are always happy with its quality and performance.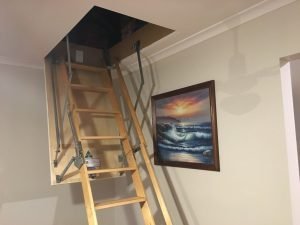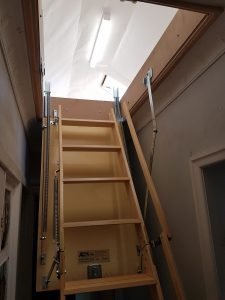 If you would like to try this attic ladder out for yourself, visit our Showroom at 13/18 Hinkler Court, Brendale Qld 4500. We have a range of attic ladders on display for you to use, including the Stair Ladder Deluxe.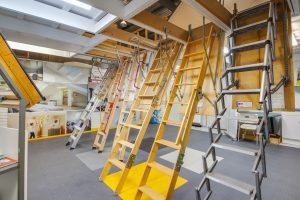 If you would like to purchase the Stair Ladder Deluxe and DIY install, no problem.  Simply send us an email or give us a call to order.
Alternatively, if you would like for us to quote on supply and installation, phone us on (07) 38896688. Or email [email protected] to book an obligation-free consultation.
Roof Space Renovators' service Brisbane, Sunshine Coast, Gold Coast, Ipswich (and all areas in between).
Roof Space Renovators' Specialise in – Attic Ladders, Attic Room, Attic Living, Attic Storage, Skylights & Roof Windows
Contact Roof Space Renovators' for an obligation free consultation – 
Phone – (07) 3889 6688
Email – [email protected]
Website – https://roofspacerenovators.com.au/
[/et_pb_text][/et_pb_column][/et_pb_row][/et_pb_section]