[et_pb_section fb_built="1″ _builder_version="4.3.2″][et_pb_row _builder_version="4.3.2″][et_pb_column type="4_4″ _builder_version="4.3.2″][et_pb_text _builder_version="4.3.2″ text_orientation="center"]
Roof Space Conversion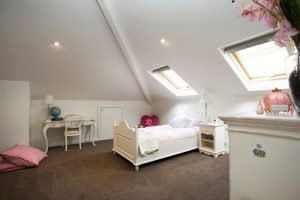 Converting your existing dark and dusty roof space into an additional living space such as, bedrooms and an extra bathroom, has numerous benefits for you and your home. A complete Roof Space Conversion is cost-effective, adds value to your home and eliminates the requirement to move house.
With Roof Space Renovators, achieving the additional space you need under your existing roof has never been easier. We specialise in providing an end to end service, ensuring that disruptions, noise and mess is as minimal as is possible during a renovation or build. We pride ourselves on our extensive industry knowledge, exceptional customer service and communication skills of all our team members.
If you are thinking about moving out, consider moving up first! Contact Roof Space Renovators for your obligation-free in home consultation today.
Why should you speak to Roof Space Renovators? 
From concept to completion, we make it easy.
A roof space conversion is a cost-effective option to create more space in your existing home whilst adding additional value to your property.
Our award winning attic conversion division is the expert in creating a new living area, bedroom, bathroom or study from your dark and dusty attic space.
We look after all aspects of the planning and construction process, therefore, we provide a clear process and pride ourselves on the flexibility, helpfulness and communication skills of our consultants, supervisors and build teams.
We understand that we are working in your home and therefore we make every effort to minimise disruption, noise and mess.
With attic conversions starting from $80,000 a spacious home is now within reach.
Roof Space Renovators' service Brisbane, Sunshine Coast, Gold Coast, Ipswich (and all areas in between).
Roof Space Renovators' Specialise in – Attic Room, Attic Ladders, Attic Living, Attic Storage, Skylights & Roof Windows
Contact Roof Space Renovators' for an obligation free consultation – 
Phone – (07) 3889 6688
Email – [email protected]
Website – https://roofspacerenovators.com.au/
[/et_pb_text][/et_pb_column][/et_pb_row][/et_pb_section]