[et_pb_section fb_built="1″ _builder_version="4.3.2″][et_pb_row _builder_version="4.3.2″][et_pb_column type="4_4″ _builder_version="4.3.2″][et_pb_text _builder_version="4.3.2″ text_orientation="center"]
Roof Space Inspirations: Beautiful Roof Windows and Skylights
Are you a nature-lover? Love to see its wonders within the comforts of your own home? Then roof windows and skylights are a must-have in your attic room if you're considering to have a roof space conversion.
Find your inspiration from these beautiful installations and be on your way to enjoy the beauty of a deep blue sky somewhere in your house or be lulled to sleep with the stars in full view:
FIXED SKYLIGHTS
Fixed skylights are your answers to maximise the light if you have adequate ventilation in your house. Usually cost-effective, its energy-efficient glazing can guarantee heat transference is reduced. Have these installed lower than your roof to maintain a seamless roofline and they can fit any interior and material like stone and wood and illuminate any place in your room that needs light. Living rooms are one of the most common areas to have fixed skylights installed so you, your family and friends can enjoy leisurely activities "under the sun" or "under the night sky".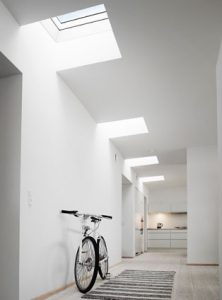 FLAT ROOF SKYLIGHTS
[Image source: https://s-media-cache-ak0.pinimg.com/736x/5e/3d/9c/5e3d9cad91eabd65b02fcb93b8d0e062.jpg]
Aside from illuminating purposes, they can be an added décor to make your living spaces interesting – orient them in either portrait, landscape or even diamond to suit your desired renovation architecture; and with their smooth exterior and lower profile, they also do not disrupt your roofline. Have these double-glazed to protect your home from UVA/UVB rays and the extreme temperatures of summer and winter. These are great for hallways and other limited spaces for added light to pass through.
MANUAL SKYLIGHTS
[Image source: http://www.veluxusa.com/~/media/marketing/us/img/gallery/bathroom1.jpg?h=420&la=en&mw=768&w=768]
Enjoy a long and luxurious bubble bath or lounge in your living room with manual skylights that truly maximise daylight while providing natural ventilation. Save on money and energy with manually operated skylights that open to allow natural lighting and breeze to pass through. Don't worry about insects and pests invading your home as these come with factory-fitted insect screens, also perfect for kitchens for the delicious aroma of home-style cooking to waft in the air and out of your home for others to enjoy and come running to your house.
Roof Space Renovators' service Brisbane, Sunshine Coast, Gold Coast, Ipswich (and all areas in between).
Roof Space Renovators' Specialise in – Attic Room, Attic Living, Attic Storage, Skylights & Roof Windows
Contact Roof Space Renovators' for an obligation free consultation – 
Phone – (07) 3889 6688
Email – [email protected]
Website – https://roofspacerenovators.com.au/
[/et_pb_text][/et_pb_column][/et_pb_row][/et_pb_section]