[et_pb_section fb_built="1″ _builder_version="4.3.2″][et_pb_row _builder_version="4.3.2″][et_pb_column type="4_4″ _builder_version="4.3.2″][et_pb_text _builder_version="4.3.2″ text_orientation="center"]
Attic City Views Paddington
Job: Create a Structural Attic Floor & Install Roof Windows for City Viewing
Location: Paddington
These clients required additional space for their growing family. They desired a room for their guests to stay including a space to use their fitness equipment and for their children's toys. Due to having only a small house block, extending outwards was not an option. However, they had a huge unused roof space and it didn't take them long to establish that the only way was up!
Roof Space Renovators' were engaged to build an Attic / Loft Room and install four Roof Windows for light & ventilation. The owners were looking forward to their new room and being able to free up their existing living space. They also imagined they would have some sort of a view to Brisbane City from the Attic Room, they just didn't realise the view would be this good. It is an amazing added bonus to a fantastic Attic Conversion project.
If you love your house and location, you don't need to leave it all behind because you are running out of space. The solution could be right above your head.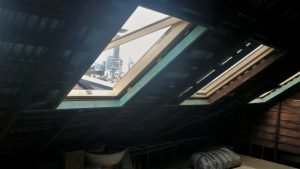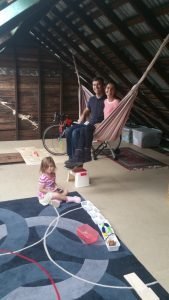 Roof Space Renovators' service Brisbane, Sunshine Coast, Gold Coast, Ipswich (and all areas in between).
Roof Space Renovators' Specialise in – Attic Room, Attic Living, Attic Ladders, Attic Storage, Skylights & Roof Windows
Contact Roof Space Renovators' for an obligation free consultation – 
Phone – (07) 3889 6688
Email – [email protected]
Website – https://roofspacerenovators.com.au/
[/et_pb_text][/et_pb_column][/et_pb_row][/et_pb_section]