[et_pb_section fb_built="1″ _builder_version="4.3.2″][et_pb_row _builder_version="4.3.2″][et_pb_column type="4_4″ _builder_version="4.3.2″][et_pb_text _builder_version="4.3.2″ text_orientation="center"]
Attic Storage Gold Coast
Job: Create a Functional, Basic Storage Area in the Roof Space
Location: Robina
These clients were using their garage to store their occasional use items.  Unfortunately though, having a cluttered garage meant they couldn't use the garage for its intended purpose – to park the cars.
Roof Space Renovators' were engaged to create an easily accessible, functional storage area in the roof space for the owners to be able to store the items they only needed occasionally.
Roof Space Renovators' installed one of our quality access ladders into the ceiling along with 16m2 of storage flooring, creating plenty of storage space.  The clients are now able to de-clutter the garage so they can park the cars.
A roof space access ladder in combination with some well laid out storage flooring can provide you with an easy and inexpensive storage solution.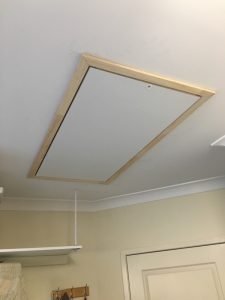 Roof Space Renovators' service Brisbane,Sunshine Coast, Gold Coast, Ipswich (and all areas in between).
Roof Space Renovators' Specialise in – Attic Room, Attic Ladders, Attic Living, Attic Storage, Skylights & Roof Windows
Contact Roof Space Renovators' for an obligation free consultation – 
Phone – (07) 3889 6688
Email – [email protected]
Website – https://roofspacerenovators.com.au/
[/et_pb_text][/et_pb_column][/et_pb_row][/et_pb_section]