[et_pb_section fb_built="1″ _builder_version="4.3.2″][et_pb_row _builder_version="4.3.2″][et_pb_column type="4_4″ _builder_version="4.3.2″][et_pb_text _builder_version="4.3.2″ text_orientation="center"]
Skylights Brisbane
With television shows such as The Block, Selling Houses Australia and House Rules, each featuring glass 'roof window' style skylights in the majority of this years renovations, it has come as no surprise that 'Skylights Brisbane' enquiries have gone through the roof, literally! 
These shows have demonstrated the versatility of this style of skylight, fabulously.  From simply brightening a dark room with natural light, with the option of opening models for additional ventilation, to becoming an aesthetic design feature in the home, these skylight add value in more ways than one.
Roof Space Renovators are the specialists in Skylights Brisbane.  For years, we have been helping Brisbane homeowners, boost the natural light within there homes whilst creating a 'WOW' factor, they will admire forever.  And we'd like to help you too!
To speak to our friendly team, call us on (07) 3889 6688, enquire online here or visit our showroom at 13/18 Hinkler Court, Brendale Qld 4500.   
Roof Space Renovators service Sunshine Coast, Brisbane, Gold Coast, Ipswich (and all areas in between).

Skylight Installation – Wynnum Qld 4178
Recently we worked with Ainsley, located in Wynnum, a beautiful coastal suburb of Brisbane.  Ainsley initially contacted us, fed up with her poorly lit dining area and craving more natural light in this room.  Our glass 'roof window' style skylights were exactly what she wanted, to brighten up this dark space.  So, we arranged for our consultant to visit Ainsley's home, provide some advice and conduct a measure and quote.  
Upon inspection, our consultant was presented with a number of obstacles.  The proposed skylight location was hindered by lights, electrical cables, air conditioning vents and ducting, as well as a water pipe.  Not to mention, Ainsley was hoping to have the largest size skylight (1140x1180mm) installed and the trusses are only 600mm apart. 
Whilst this is all achievable, it is certainly not an easy or cheap exercise, as it requires a structural engineer, numerous trades and precise project co-ordination.  For Ainsley and her family, the addition of a large skylight in her dining area outweighed the obstacles and they accepted our fixed price quote for the entire job. 
Shortly after, we went on to complete the structural works required to install this large Keylite skylight.  Multiple trades were engaged to relocate all the required obstructions.  Our team installed this skylight into the roof, constructed the shaft, lined it with gyprock and plaster square-set the shaft, ready for painting.
Before Photo
Completion Photos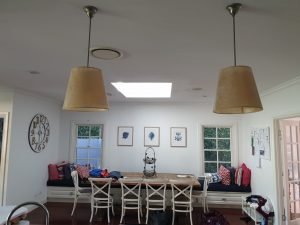 Ainsley set us quite a task with this skylight installation and she was more than happy with the outcome, leaving us this 5 star Google review:-
'Andrew was polite, prompt and eager to do a great job. His company succeeded! We are very happy with the result. First time I've engaged contractors to do renovations where there wasn't an issue.  Ainsley Leaning'
The Roof Space Renovators Difference
Initial Consultation – Trained consultants that visit your home to discuss and advise on your proposed skylight project.
Fixed Quotations – No hidden costs.
Builders License – We have the license to conduct your installation from start to finish, including the engagement of multiple trades if required.
Showroom Display – We have fixed, manual opening and electric opening skylights on display including a range of accessories (blinds and insect screens).
Brand Options – We provide our customers with their choice of skylight brand – Atlite Skylights, Infiniti Skylights, Velux Skylights, Fakro Skylights or Keylite Skylights.
Quality Workmanship – Extensive experience in skylight installations.
Qualified Team –  Builders, carpenters, plasterers, as well as roofers, electricians, plumbers, air conditioner specialists (if required).
Customer Service – We pride ourselves on our exceptional customer service. Check out our Google reviews and Facebook reviews.
Other Credentials – Full insurance cover and also members of HIA and Master Builders Qld.
Skylights Brisbane
Glass skylights / roof windows are on trend.  If you love the look of the skylight renovations recently featured on The Block, House Rules & Selling Houses Australia, call Roof Space Renovators on 07 3889 6688, send us an online enquiry or  VISIT Our Showroom at 13/18 Hinkler Court, Brendale.
Roof Space Renovators' service Brisbane, Sunshine Coast, Gold Coast, Ipswich (and all areas in between).
Roof Space Renovators' Specialise in – Attic Ladders, Attic Room, Attic Living, Attic Storage, Skylights & Roof Windows
Contact Roof Space Renovators' for an obligation free consultation – 
Phone – (07) 3889 6688
Email – [email protected]
Website – https://roofspacerenovators.com.au/
[/et_pb_text][/et_pb_column][/et_pb_row][/et_pb_section]