[et_pb_section fb_built="1″ _builder_version="4.3.2″][et_pb_row _builder_version="4.3.2″][et_pb_column type="4_4″ _builder_version="4.3.2″][et_pb_text _builder_version="4.3.2″ text_orientation="center"]
Skylights Sunshine Coast
Do you have a dark room or two that could do with some extra natural light? Then contact Roof Space Renovators and discover our skylights Sunshine Coast solution.
Roof Space Renovators are skylight experts, bringing light into homes all over South East Queensland.
Give us a call today on 07 3889 6688, send us an online enquiry or drop into our showroom at 13/18 Hinkler Court, Brendale, to find out how we can help you to!
Skylight Installation Buderim
Fed up with their poorly lit dining / living area, these Sunshine Coast clients began researching their options for achieving additional light. Wanting more than just a simple skylight, these clients found our glass 'roof window' style skylights particularly appealing.
Correctly positioned and professionally installed, our skylights have the ability to not only allow an abundance of natural light into the home but also open up a room, making it feel and look larger.
This was exactly the result Roof Space Renovators achieved for these Sunshine Coast homeowners when we supplied and installed two 550x1400mm fixed (non-opening) skylights into the tile roof, above the dining / living room. In addition, we also conducted the required internal work by framing each individual skylight shaft, lining them with gyprock and plaster square-setting them, ready for the clients to paint.
The skylights made a huge difference to the ambience of the room, as can be seen in the below BEFORE & AFTER photos.
Before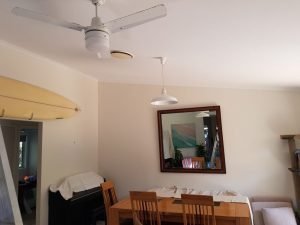 After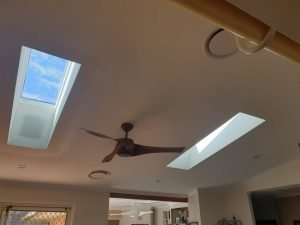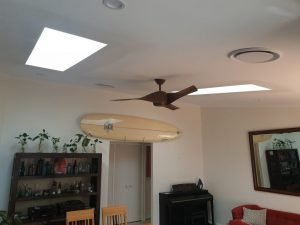 Installed into Roof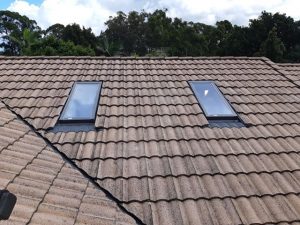 Why so many customers choose Roof Space Renovators
Showroom display – we have fixed, manual opening & electric opening skylights on display.
Brand Options – We provide our customers with choice between the five (5) major skylight brands on the Australian market (Atlite, Infiniti, Velux, Fakro & Keylite).
Initial Consultation – trained consultants that visit your home to discuss and advise on your proposed skylight project.
Fixed quotations – no hidden costs.
End-to-end supply & installation service – we complete the entire job in house from start to finish, including the required internal works.
Quality workmanship – extensive experience in skylight installations. Qualified team of builders, carpenters, plasterers, as well as roofers, electricians, plumbers, air conditioner specialists (if required).
Customer Service – we pride ourselves on our exceptional customer service. Check out our Google Reviews and Facebook Reviews.
Our Credentials – Full insurance cover, licenced builders and also members of HIA & Master Builders Qld.
Skylights Sunshine Coast
Therefore if you need a skylight or two to brighten up your Sunshine Coast home, call Roof Space Renovators on 07 3889 6688, send us an online enquiry or drop into our showroom at 13/18 Hinkler Court, Brendale.
Roof Space Renovators' service Brisbane, Sunshine Coast, Gold Coast, Ipswich (and all areas in between).
Roof Space Renovators' Specialise in – Attic Ladders, Attic Room, Attic Living, Attic Storage, Skylights & Roof Windows
Contact Roof Space Renovators' for an obligation free consultation – 
Phone – (07) 3889 6688
Email – [email protected]
Website – https://roofspacerenovators.com.au/
[/et_pb_text][/et_pb_column][/et_pb_row][/et_pb_section]