Storing Stuff in the Roof – Gold Coast / Sunshine Coast / Brisbane
If you have stuff you want to keep but just don't have the space for it….look up!  Storing Stuff in the Roof, otherwise known as 'attic storage' could be the answer you have been searching for.
Job Location:  Palm Beach, Qld 4221
The photos of this attic ladder and basic storage area are of an installation we conducted about three years ago in a home located on the Gold Coast. Recently, we were requested to go back to this home to quote on the supply and installation of our glass skylights.  As a result, we thought we'd take some happy snaps of the basic attic storage area in action. This shows just how much use our customers are getting out of the attic storage products and services we offer.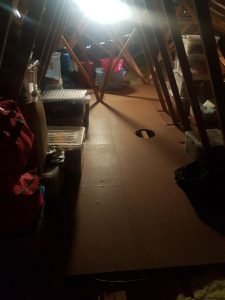 For these customers, they couldn't be without their attic ladder and 10m2 of roof space storage flooring. They love the ability to maintain an uncluttered home, having their stored items conveniently located right above their heads.  The main positives for them are
No driving to storage facilities and paying monthly rental fees! 
Easy access to the stored items.  
We often hear comments such as 'we could never be without attic storage again'. Every now and then, we also have customers who have moved house, call us requesting we quote an attic ladder and a storage space in their new home.  This is because it is easy to get used to the storage convenience.  With many Qld homes having a total capacity of 25% laying dormant (wasted) within the home, it makes sense to use some or all of it. Especially if your garage is full of everything except the car, or you can't have guests stay because your spare room is chockers.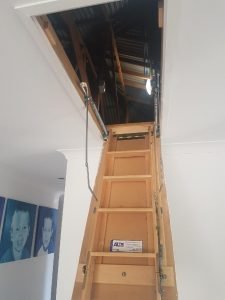 Roof Space Renovators install Attic Ladders and storage spaces daily.  Our attic storage flooring is laid to engineers specifications.  It provides a hefty 75kg per m2 weight load capacity, plus foot traffic. Further, we have various attic ladder models and sizes available, in combination with multiple levels of storage to meet all budgets and requirements.  Roof Space Renovators hold a Qld Builders Licence.  We are also members of Master Builders Qld and Housing Industries Australia, giving you piece of mind.  Our consultants and installers are punctual, tidy and are committed to an extremely high standard of customer service.    
If you have never considered making use of your roof space, or have considered it but just haven't got around to organising a quote…..let Roof Space Renovators know!  The process is easier than you may think. Before you know it, you could have your very own in home storage solution, just like these happy customers at Palm Beach.
We have a showroom with our attic ladders and storage options on display at – 13/18 Hinkler Court, Brendale Qld 4500.  (Open Monday to Friday 9.30am – 2.30pm)
Roof Space Renovators' service Brisbane, Sunshine Coast, Gold Coast, Ipswich (and all areas in between).
Roof Space Renovators' Specialise in – Attic Ladders, Attic Room, Attic Living, Attic Storage, Skylights & Roof Windows
Contact Roof Space Renovators' for an obligation free consultation – 
Phone – (07) 3889 6688
Email – [email protected]
Website – https://roofspacerenovators.com.au/
[/et_pb_text][/et_pb_column][/et_pb_row][/et_pb_section]